Dairy farmers in Gujarat earn Rs 2,475 a month
Himanshu Kaushik | TNN

 | 

Updated: Nov 25, 2018, 05:14 IST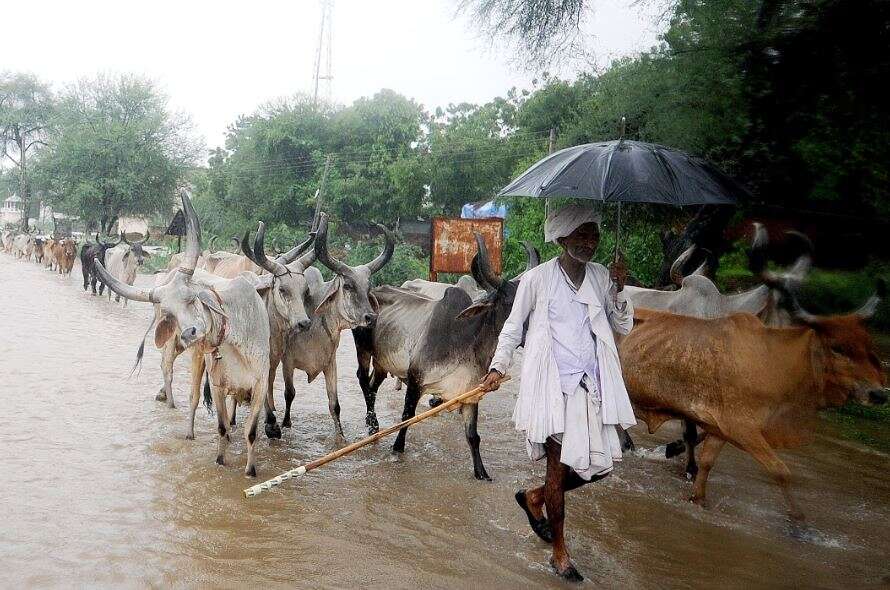 Officials said that most farmers who raise crops are also involved in cattle farming. (File Photo)
AHMEDABAD: The monthly income of those involved in dairy and animal husbandry in the state is second-highest in the country after Haryana. But Gujarat's dairy farmers monthly income is just Rs 2,475, according to central government data. There are 32.78 lakh families in the state involved in farming with 30.7 lakh families involved in dairy.
According to data from the Pocketbook of
 Statistics 2017, which was released recently, the average monthly income of a family involved in dairy farming in
 is Rs 2,475, nearly Rs 350 less than their counterparts in Haryana where the average income of a dairy farmer was Rs 2,833.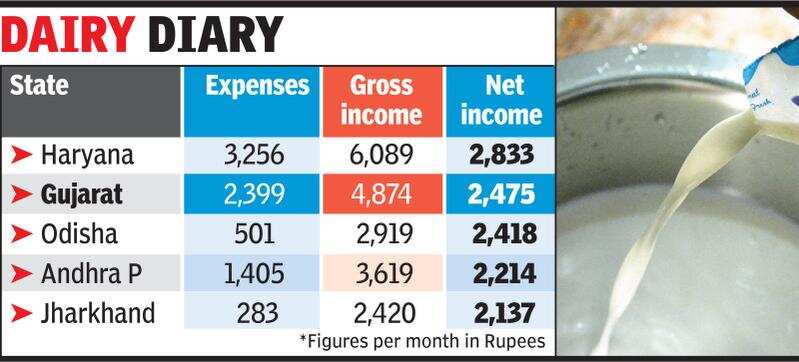 "The average expenses of a daily farming household in the state is Rs 2,399 a month, while average receipts are Rs 4,874," according to the statistics in the pocketbook, the bases for which were June 2012 and June 2013.
Officials said that most farmers who raise crops are also involved in cattle farming. Ajitsinh Vavdi, a farmer from Botad, said, "Usually, farmers also keep some animals and make an earning from the dairy. However, for the past three years, with the increasing cost of cattle fodder and decreasing milk prices the income from cattle farming is also reducing.
He said that the combined income from agriculture and cattle does not even work out to be even Rs 5,000 per month for average farmers. This works out to be just Rs 167 per day. He further said that there are many farmer families who earn less than Rs 1,500 a month from cattle far. "I have ten cattle and hence I can survive," Vavdi said.
A former official of the animal husbandry department said that the income was falling every year and the figures released are that of 2012-2013. If the recent figures were calculated the figures would become lower.
He further said that these figures cited by the government are on averages. There are more small and marginal farmers in cattle farming than big farmers and their income is much lower than calculation indicates. Big cattle farmers are making large amounts, but medium and small farmers are suffering, he said.
Of any 1,000 rural households there are only 780 families involved in dairy business, while 860 are into agriculture. Officials said that only 30.73 lakh farmers in the state are involved in dairy business, but in case of agriculture this was 32.79 lakh.